商品描述
根據定義,脈輪是您體內的能量點,有助於調節器官功能、免疫系統和情緒。 從脊椎底部到頭頂,您的全身都有七個脈輪。 每個脈輪都有自己的頻率、能量和顏色。 保持它的平衡可以讓你在心理、情感和精神上保持健康。
熔岩珠由天然火山玄武岩製成。 熔岩充當海綿狀載體,因為它可以吸收您的油脂並將其保留在珠子的核心中。 眾所周知,它是一種與地球母親有關的奠基石,可促進力量、穩定和勇氣。
太陽神經叢脈輪(黃色) - 個人力量、意志和自我價值的來源
皇冠脈輪顏色(紫羅蘭色) - 促進與每個人和大自然的團結
我們精心設計、測試並確保我們手鐲的質量。 它們由經久耐用的材料製成,以防止破損。 每條手鍊均採用天然寶石手工製作而成,因此顏色組合、大小和形狀可能會略有不同。
塗有油的熔岩珠應轉向手腕內側。 在佩戴手鐲之前,讓油有時間乾燥和吸收。
Chakras, by definition, are energy points within your body that help to regulate organ function, immune system and emotions. Seven chakras are found throughout your body, from the base of your spine to the crown of your head. Each chakra has its own frequency, energy and color. Maintaining its balance keeps you psychologically, emotionally, and spiritually healthy.
Lava Beads are made from Natural Volcanic Basalt. The lava stones acts as a sponge-like carrier as it soaks up your oils and retains them in the core of the Bead. It is known to be a grounding stone that has connections to Mother Earth promoting strength, stability and courage.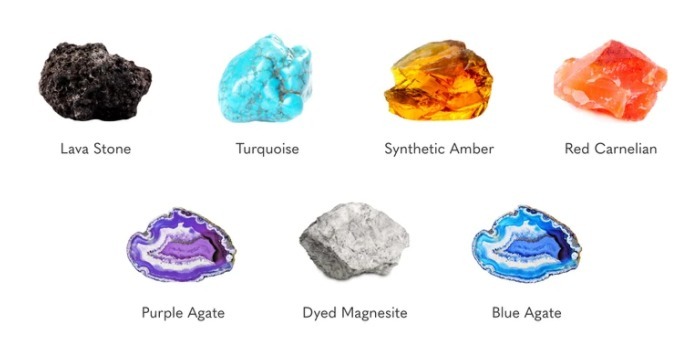 Root Chakra (Red) - associated w/ feelings of safety & security
Sacral Chakra (Orange) - center of pleasure, enjoyment & creativity
Solar Plexus Chakra (Yellow) - source of personal power, will & self-worth
Heart Chakra (Green) - source of love, compassion, unity & balance
Throat Chakra color (Blue) - mediator of heart & head
Third Eye Chakra color (Indigo) - source of intuition & wisdom
Crown Chakra color (Violet) - promotes unity with everyone & in nature
We carefully design, test and ensure the quality of our bracelets. They are made with durable long lasting materials to prevent breakage. Each bracelet is uniquely handmade with naturally sourced stones, therefore, a slight variation in color combination, size, and shape may occur.
16 cm - Stretchy elastic
8mm beads
Nickel & Zinc Free
The lava beads coated with oil should be turned to the inside of your wrist.  Allow time for the oils to dry & absorb before wearing your bracelet.


顧客評價
{{'product.product_review.no_review' | translate}}